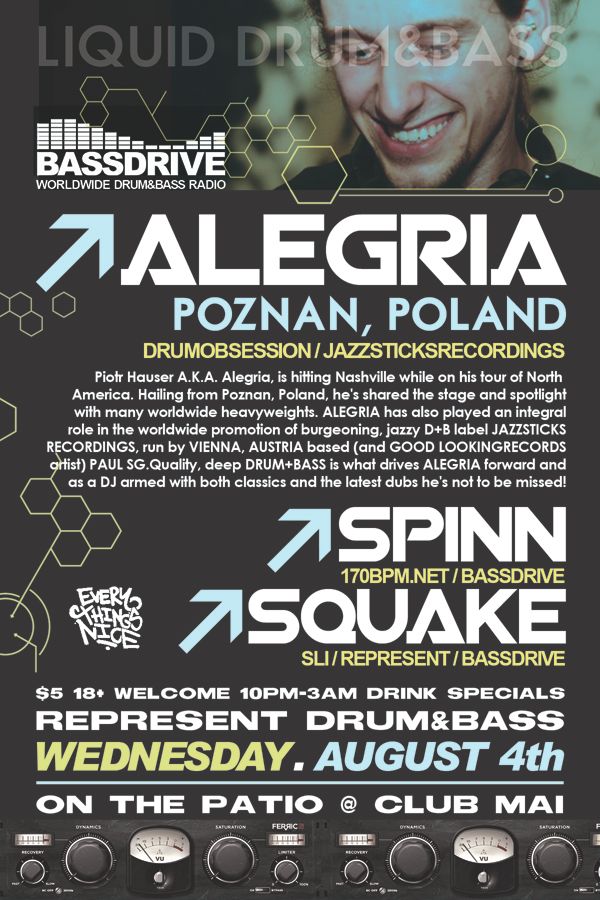 REPRESENT NASHVILLE Presents: An evening of DEEP & LIQUID DRUM & BASS!
ALEGRIA<<<
[Jazzsticks Recordings / DrumObsession / Poznan, Poland]
Even though he'd listened to Drum+Bass in the past, it wasn't until the day he turned the dial to internet radio giant BASSDRIVE.COM that ALEGRIA truly became addicted to this fast-paced, exciting music. From that moment on, the story became near-cliché: friends suggested he get his own equipment and become a DJ himself - thus began the "bedroom DJ" stage. After hard work in the studio honing his technical and selection skills, ALEGRIA recorded his first studio mix and was instantly spotted by a local promoter with gig offers. Since then, ALEGRIA's played various monthly parties in his native POLAND's IQ CLUB with the DRUM OBSESSION crew and has also found time to start his own monthly edition of parties entitled 'LUCID DRUMMING'.
As a promoter, ALEGRIA is responsible for booking revered DRUM+BASS luminaries such as RANDOM MOVEMENT (USA) and NAIBU (France). He's shared the stage and spotlight with worldwide heavyweights ANILE, EDWARD OBERON, JUNE MILLER, NETSKY, and ZYON BASE, to name but a few. Since early 2010, through his strong and determined networking skills, ALEGRIA has also played an integral role in the worldwide promotion of burgeoning, jazzy D+B label JAZZSTICKS RECORDINGS, run by VIENNA, AUSTRIA-based (and GOOD LOOKING RECORDS artist) PAUL SG.
Quality, deep DRUM+BASS is what drives ALEGRIA forward and as a DJ armed with both classics and the latest dubs doing damage on dance floors worldwide, he's not to be missed…….
For further INFORMATION and MUSIC, visit:
http://www.soundcloud.com/alegriaabada
http://www.myspace.com/alegriaabada
Support from:
SQUAKE<<<
[Represent / Bassdrive / SLI]
http://soundcloud.com/squake
http://www.facebook.com/squake.bassdrive
SPINN<<<
[www.170BPM.net / Bassdrive]
http://soundcloud.com/spinn
http://www.facebook.com/spinn12
$5 18+ Weclome Drink Specials
125 12th AVE North Downtown
On the Patio @ CLub Mai
TUNE IN!
http://www.bassdrive.com/v2/