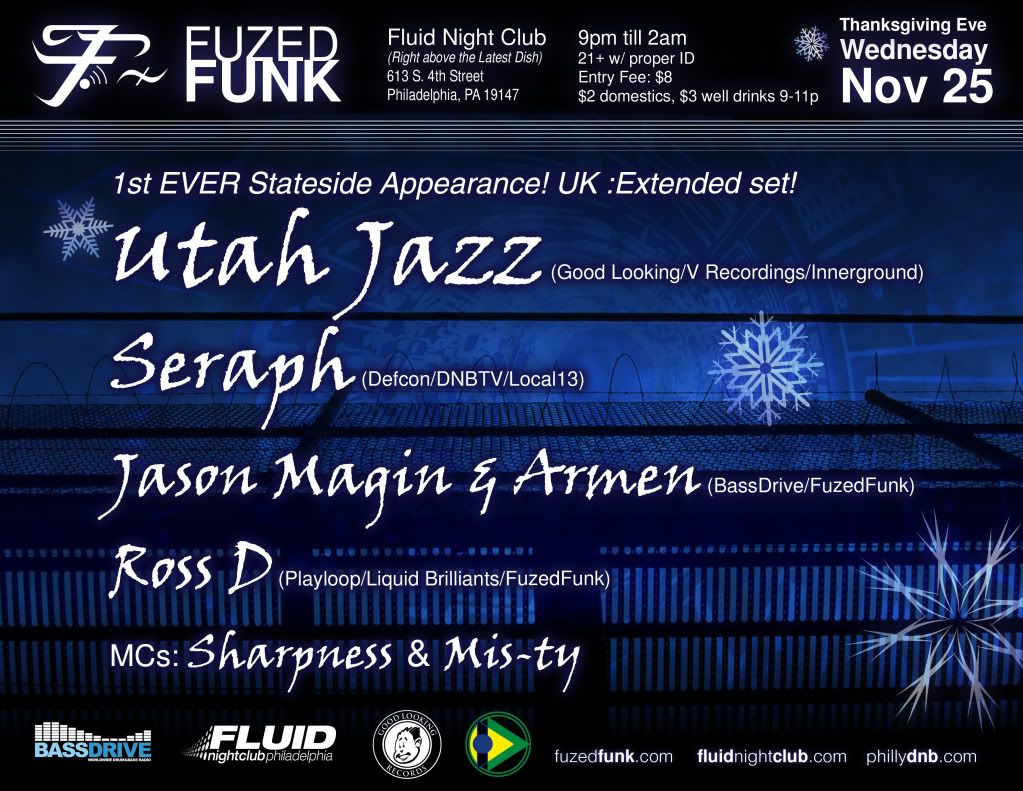 Fluid Night Club (Right above the Latest Dish)
613 S 4th Street
Philadelphia PA 19147
Time: 9pm till 2am
Cost: $8
$2 domestics, $3 well drinks 9-11pm
-------------------------------------------------------
Headliners:
UTAH JAZZ (Good Looking/V Recordings/Innerground)- UK Extended set for his 1st Stateside Appearance!!!
SERAPH (Defcon/DNBTV/Local13)- PHL
Jason Magin & Armen (Fuzed Funk/Bassdrive)
Ross D (All Street/FuzedFunk)
MCs- Sharpness & Mis-Ty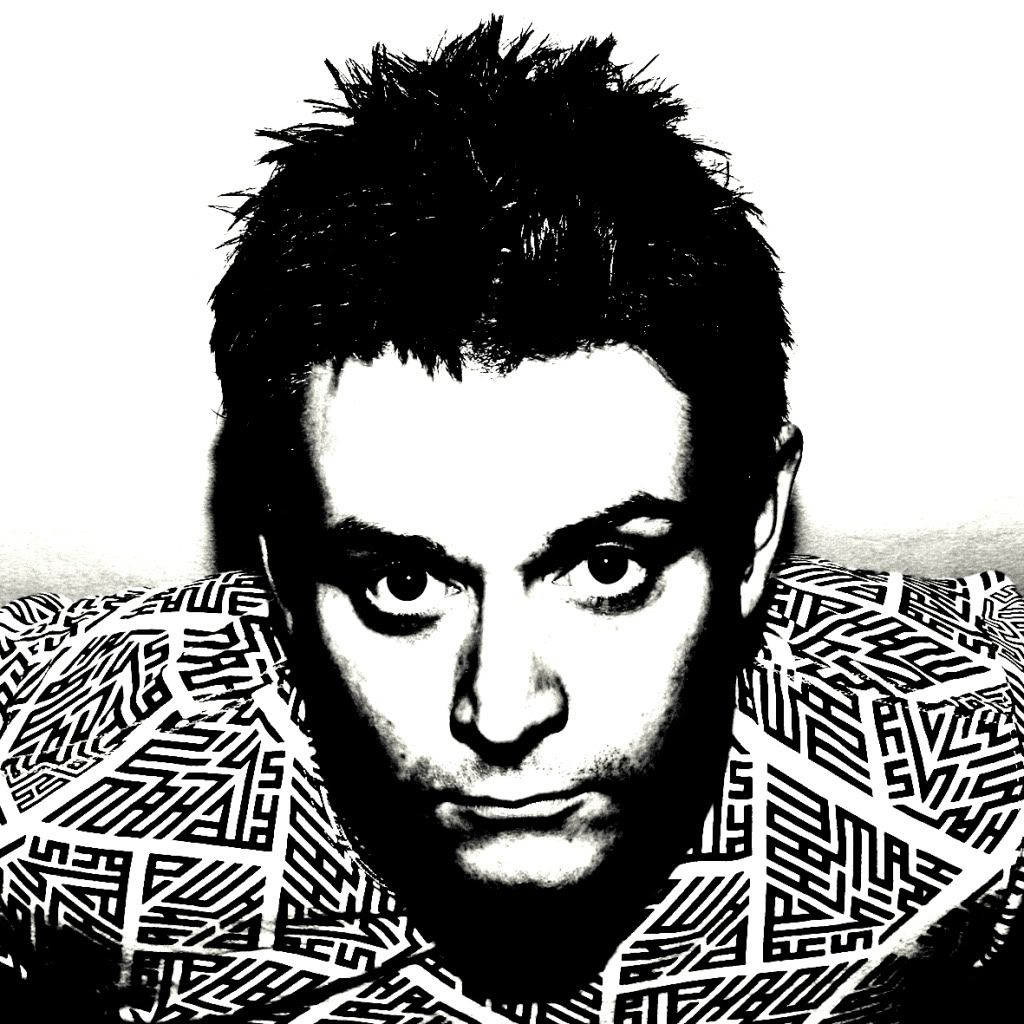 UTAH JAZZ- 1st Stateside appearance!
Utah Jazz is one of the original liquid funksters. He started mixing Drum & Bass whilst still at school, inspired by LTJ Bukem & Alex Reece and his DJ career soon blossomed – randomly adopting the name 'Utah Jazz' from the US Basketball team to showcase his preference for the mid 90s 'Jazz-Jungle' sound. In 2008, his debut album 'It's A Jazz Thing' was released worldwide to both commercial and critical acclaim - cementing Utah Jazz's position as one of the major cross-over D&B artists this side of the millennium. Pipped at the post by worthy winners Chase & Status, 'It's A Jazz Thing' was also the 2nd highest placed Drum & Bass album in Mixmag's famous 2008. Top 50 poll, with Pendulum coming in 3rd. Released through Bryan G's seminal V Recordings camp (the first home of Roni Size & DJ Marky) with radio and club support from the likes of Trevor Nelson, Zane Lowe, Annie Mac, LTJ Bukem, Fabio, Andy C, Goldie, Gilles Peterson and more – the global impact of 'It's A Jazz Thing' has also now made Utah Jazz one of the most in demand selectors on the international D&B circuit. Since the release of 'It's A Jazz Thing', Utah Jazz has now joined the likes of High Contrast & Danny Byrd as one D&B's leading remixers with reworks for Wiley (Atlantic Records / Warner), Tricky (Domino Records), Lethal Bizzle (Search & Destroy / V2), Jonny L (Nero Records), Serani (Island Records / Universal) & Yo Majesty.
SERAPH - (Defcon::Local 13::DnBTV.com)
Born of Philadelphia's broken streets and dimly lit alleys, Seraph has risen to the higher echelons of Drum and Bass' DJ Elite. The current leader of the prolific Defcon, he is largely responsible for the re-emergence of Philadelphia's DnB scene. The co-creator of the successful Bedlam series, numerous one-offs as well as Local 13's Bang and Whistle events has not only packed the lineups with some of the world's most well known DJs, but has also enraptured audiences with a furious track selection of rollers, anthems, original VIPs, and unreleased dubs. His live sets can be described as a masterclass in drum and bass beatdowns. In 2010 expect multiple original releases and collaborations as Seraph prepares to unleash his own strain of big bass heavy rolling DnB.  Be sure to check out his weekly internet radio show on DnBtv.com "THE RUKKUS" with the rest of the Defcon DnB militia as well as special guests weekly.  Get ready for a special liquid and smooth techstep set JUST for Fuzed Funk. 
Jason Magin & Armen- (FuzedFunk::Bassdrive.com)
The original Fuzed Funk duo will be on the decks for a back to back session filled with exclusives and those million dollar classics you know and love!
Ross D- (All Street::FuzedFunk)
Ross has been getting a lot of attention lately as people realize he is just as skilled at mixing as he is in the studio.
MCs- Sharpness & Mis-Ty - (Mental Sharp::FuzedFunk)
Two of the best hands down. No DnB event is really complete without them.
more info @:
http://www.fuzedfunk.com
http://www.fluidnightclub.com