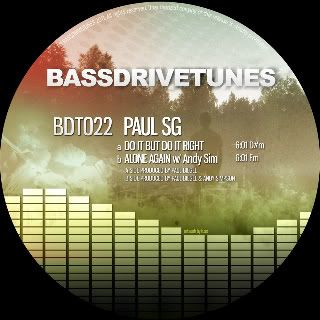 After spending years refining their respective styles, it is no mistake that
Paul SG
and
Andy Sim
have become two of the most exciting and distinguished names in Drum & Bass. And it is with great excitement that
Bass

drive

Tunes
presents our
22nd release
-
Paul SG
's
"Do It, But Do It Right,"
backed with
Paul SG
&
Andy Sim
's
"Alone Again."
"Do It, But Do It Right"
comes right out of the gate with
Paul SG
's signature drum work, building in steady anticipation while creating an immediate groove by blending a variety of clever percussive cadences along with a deliberate and beckoning horn section. The energy shifts after the drop, with an engaging, yet velvety smooth bassline and expressive drums which really get at the essence of drum and bass, the ambiance scratching away at the surface of Paul SG's adept production techniques to reveal the simplicity and class that first defined the genre. 
"Alone Again"
in collaboration with
Andy Sim
showcases the diverse talent of both of these artists, with an emotionally haunting yet infectious groove, building up to the break where backwards strings and piano round out a delicate banshee-like vocal. As cleverly reverberated horn samples and dubbed out vocals create a simultaneously ambient yet picturesque soundscape, the multi-layered drums continue driving the track forward, offering a unique dynamic and balance seldom achieved in any musical composition. 
Paul SG
, one of the original members of
Bass

drive

Tunes
roster, follows up his 2 previous tracks on
Bass

drive

Tunes
with another wicked release. He teams up and brings
Andy Sim
to the
Bass

drive

Tunes
family and we look forward to putting more of
Andy Sim
's great music out to the masses. Get
[BDT022]

RIGHT NOW

, only at http://www.bassdrivetunes.com!!!
http://soundcloud.com/bassdrivetunes/bdt022a-paul-sg-do-it-but-do
http://soundcloud.com/bassdrivetunes/bdt022b-paul-sg-andy-sim-alone